The last couple of weeks of 2021 was a whirlwind of activity as our parish leadership wrestled with the Covid-19 Protection Framework. We needed to understand how it impacts all the activities and groups we usually see at our facilities, in order for us to ensure compliance throughout the 'restart' of the various activities.
The leadership of HCPC has chosen an inclusive approach to ministry under the Covid-19 Protection Framework, and as such we are positioning our ministry in a way that we hope will include both people who have chosen to be vaccinated as well as those who have chosen not to be vaccinated.

HCPC Parish Council, November 2021
Our distinction in operations will be "Operating with My Vaccine Pass" and "Operating without My Vaccine Pass". Please see the infographic below as a quick guide to the protocols that will be in effect at the gatherings hosted by HCPC.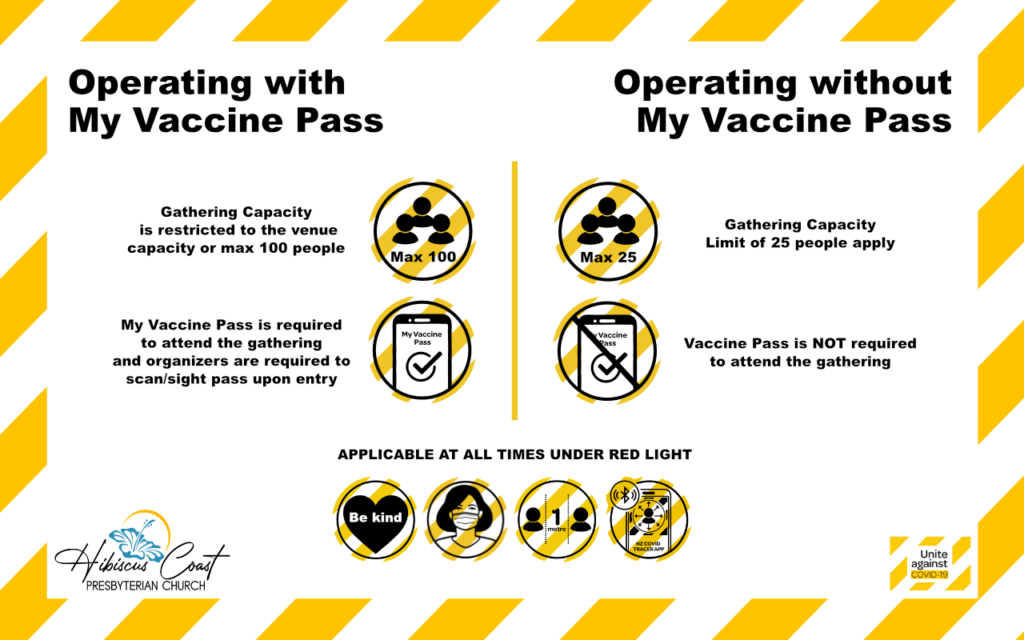 This approach will most certainly put additional pressure on our minister, staff, volunteers and resources. The leadership has acknowledged this and will continue to assess and manage the impact thereof. However, we remain convinced that it is our duty to ensure that everyone has access to the ministry of grace that we have been called to, and choosing one approach over the other would result in people being excluded.
Practically this means that we assessed it best to take a cautious approach whilst embracing opportunities for all to participate.
What can you expect at HCPC during the RED/ORANGE phase of the Covid-19 Protection Framework?
We will regularly host multiple gatherings to ensure those using the My Vaccine Pass and those who don't are able to attend and participate in a gathering where they choose to-, and feel safe-, to do so.
We will clearly communicate the times of these gatherings as well as clearly mark the requirements for attendance at the entrances to the different gatherings. (Please keep an eye out for our Covid-19 signage as they will vary depending on the gatherings protocol.)
We will host as many of our gatherings outdoors as is practically viable. Poor weather will move gatherings indoors.
Our morning tea will remain BYO (Bring your own) for the duration of the RED/ORANGE zone under the Covid-19 Protection Framework.
We will continue to publish weekly devotions and communication via email, our website, and our social media (Facebook) feeds.
We will ensure good hygiene practice and cleaning for each gathering, providing hand sanitiser and cleaning material throughout. 
For those who would like to read a more detailed document that outlines how the Covid-19 Protection Framework impacts places of worship, please download the guidelines for places of worship from this link.